The theory part of the driving test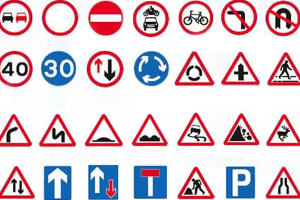 You cannot apply for the practical driving test until you have passed the theory test. The theory test is taken at a different centre to the practical test. You cannot take the theory test before your 17th birthday.
The theory test is divided into two parts, the multiple choice element and the hazard perception element. You take both parts of the theory test on the same day.
This section answers questions about the two part theory test and getting your results
The theory test consists of a multiple choice element and a hazard perception element. On the multiple choice element you will cover:
Alertness, Attitude, Safety and Your Vehicle, Safety Margins, Hazard Awareness, Vulnerable Road Users, Other Types of Vehicle, Vehicle Handling, Motorway Rules, Rules of the Road, Road & Traffic Signs, Documents, Accidents, and Vehicle Loading.
In the multiple choice element there are 50 questions. All papers are not the same so resist any temptation to copy!
The pass mark is 43 correct out of 50.
Applying for the theory test | What if you fail? | Multiple Choice
Please note that the format of books and other materials used by the DSA for the theory test changed a few years ago. Nowadays the DSA creates theory tests using questions which have not been published. The move follows the introduction of independent driving in October 2010. Practice questions, not actually used in the tests, are still available.